Michael Saylor reveals in a Twitter spaces why MicroStrategy's wholly owned subsidiary MacroStrategy says Adios to a portion of its Bitcoin holdings in December 2022.
"Bitcoin is traded as property right now, so that means that you can sell the property, take the capital loss and you have the option to buy property in the future or to have bought it in the past and that's a different tax basis. We have some capital gains that we pay taxes on and then we can have some capital losses in Bitcoin, so by selling the Bitcoin and taking the capital loss, we're able to use that to offset some capital gains. So it's very tax efficient for the corporation."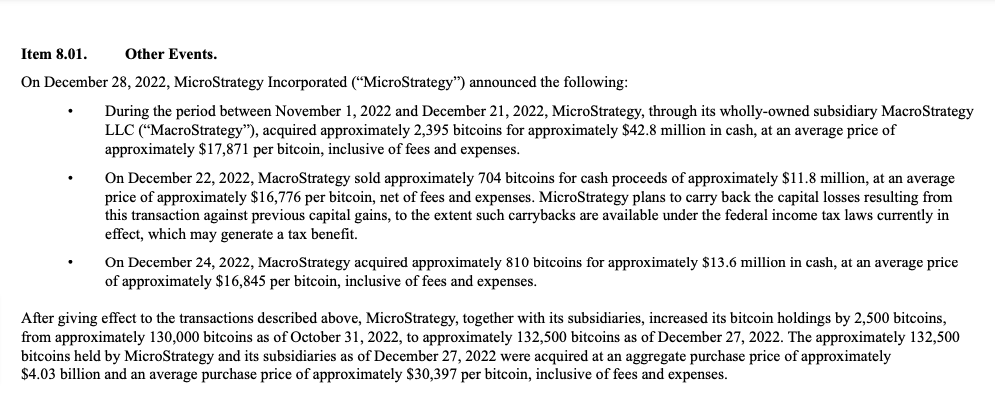 MicroStrategy revealed in a December 28th Securities and Exchange Commission (SEC) filing that it sold $11.8 million worth of Bitcoin on December 22nd at an average price of about $16,776 per BTC. According to the firm, the sale of around 704 BTC is for tax benefits.
MicroStrategy plans to carry back the capital losses resulting from this transaction against previous capital gains, to the extent such carrybacks are available under the federal income tax laws currently in effect, which may generate a tax benefit.
According to the SEC filing and Saylor's announcement tweet, MicroStrategy [MacroSrategy] purchased more Bitcoin than it sold two days following the sale. They purchased roughly 810 bitcoins for about $13.6 million in cash on December 24, 2022, at an average price of approximately $16,845 per bitcoin, inclusive of fees and expenses.
MicroStrategy has increased its #Bitcoin Holdings by ~2,500 #BTC. As of 12/27/22 @MicroStrategy holds ~132,500 bitcoin acquired for ~$4.03 billion at an average price of ~$30,397 per bitcoin. $MSTRhttps://t.co/lcMeULcGQk

— Michael Saylor⚡️ (@saylor) December 28, 2022